Kristina Diane Comforte was born on April 9, 1987 in Hinsdale, Illinois. Kristina began her gymnastic career at the age of five. She joined a local Park district program with her best friend Alex. Alex did not take to the sport, but Kristina loved it. She progressed to her first team at the age of seven. This Park District program was run out of the local High School (where she used to attend). She competed only once (tumbling), and unfortunately the program was cancelled. Kristina then joined a private club, Premier Gymnastics. Here she would begin at Level 5 and progress to be their first State Champion at Level 8. Throughout this time, Kristina tried other sports (Ice Skating, Horseback riding, Softball, Tap and Ballet) but always was the most dedicated to her gymnastics.
It was at this time that two of her coaches (Tony & Cathy Pineda) suggested that she get into a more competitive program. They told her parents to look at Illinois Gymnastics Institute (IGI). At first, this was a hard decision for Kristina being that all her gymnastic friends would be left behind. However, her parents suggested she try it out and she loved it! Todd Gardiner (head coach & owner of IGI) invited her to join the team which began her new journey as an IGI gymnast. IGI was always known to have the best gymnasts in the state of Illinois so this was quite an honor. She began Level 9 at IGI and did very well.
Hoping to make the level 10 team was one of her goals in 2000 and she made it. One of the highlights of that first year at Level 10 was the Dynamo Classic. This meet featured Shannon Miller on balance beam. Guess who competed on the beam right after her? Yep! It was Kristina. Shannon was considering trying for the 2000 Olympic Team and this was her "warm-up" to that. It turned out that Kristina won balance beam (Shannon's score was exhibition only), uneven bars, floor exercise and 2nd on vault, with a 1st place AA. Kristina's second year at Level 10 was even better! She placed 2nd all-around at the State, won the Junior B, AA at the Regionals, and was the Junior B, AA JO National Champion! Kristina was also named the Region V 2001 Athlete of the year.
It was at this point that Todd decided to get back into the Elite program with Liz Tricase and Kristina. Liz was just coming back from an injury and with Kristina, doing so well at Nationals the obvious next step was Elite. It was at this time that Kelly Fee joined the team. It was so great having her! Kelly and Kristina had been friends throughout their gymnastic career even though they were always on different teams. Liz, Kelly and Kristina began their Elite careers together. The first year was very hard! It was like starting gymnastics all over again. Going from scoring in the high 9's to barely receiving an 8's was definitely a learning experience. In fact, during this time Kristina wondered whether she should remain an Elite or go back to Level 10. Well, she made up her mind to take gymnastics as far as she could and give it her best. After all, she made a vow back in 1998 that she would someday be a competitor at the US National Championships.
In 2002, Kristina continued her goal to become an International Elite. She qualified to her first US National Championship in which she made the Junior National Team and was the Junior Vault Champion! In October, Kristina was select to represent the USA at the Jr. Pan Ams and the USA vs Canada Meet. However, the day before the USA vs Canada competition, Kristina injured her knee and was only able to compete on uneven bars. She contributed to help Team USA to win gold.
Beginning 2003, Kristina had surgery and continued to Rehab her knee (6 months) to prepare for Nationals. She petitioned to compete in the US National Championships. She continued her success by making the Senior National Team and was the silver medalist on vault. When Kristina attended the Fall Selection Camp, she was select to go to the Trophee Massilia Cup in France. Kristina was on the USA "B" team, which placed 9th. Kristina qualified to the vault finals and beat two-time Olympic Gold Medalist, Elena Zamolodchikova to win the vault title!
Kristina was not able to compete at the beginning of 2004 due to a stress fracture in her right fibula. After returning from her injury Kristina was chosen to shoot an NBC commercial for the 2004 Olympic Games. After the video shoot, she began working hard to prepare for the International Friendship meet in May. At the meet, Kristina placed 3rd in the all-around behind Courtney Kupets and Carly Janiga. She also won the silver medal on vault. At the 2004 US National Championships, Kristina was disappointed that she did not qualify to the Olympic Trials, but was very happy to announce that she will be competing for UCLA during the 2005-2006 season.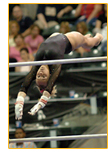 In 2005, Kristina's first meet was IGI Chicago Style, hosted by Kristina's gym. Kristina only competed on two events, the uneven bars and balance beam, in which she took home a first place finish on both. Kristina petitioned to the 2005 US Nationals after jamming her thumb at the US Classic meet, where she was only able to compete on one event. At Kristina's last US Nationals before going away to college, she placed 6th in the all-around and made the US National Team. Soon after Kristina was invited to attend the world's selection camp, she had an MRI showed that one of her ligaments in her left foot was torn. So, Kristina decided to focus on getting healthy for NCAA.
Kristina earned many honors in 2006 as a freshman at UCLA. She was named the PAC-10 Gymnast of the Week (Jan. 31-Feb. 5) after becoming the first gymnast in the national to score a perfect score during that year. Kristina qualified to the NCAA Championships after winning a bronze medal in the all-around at the NCAA South Central Regionals. After Kristina's regular season was over, it showed that Kristina was No. 11 in the all-around, No. 6 on uneven bars, and No. 10 on balance beam. She was also the second-highest ranked freshman in the nation in the all-around and earned the first-team All-America honors in the all-around and on vault. After the season was over, Kristina had a surgery on her ankle. Her right shoulder was bothering her all summer as well, so she decided to go to the doctor. She had to get a surgery on her shoulder because her labrum was torn. She finally recovered from her injuries after four to six months.
In 2007, Kristina helped UCLA team win four out of six competitions before she had to pull out for the rest of the season due of an ankle injury. She found out that she had a fracture in the lateral talus in her ankle. She had to get another surgery.
After struggling with shoulder and ankle injuries from last two years, Kristina finally returned to training and competing healthy. She competed in the all-around for the UCLA Bruins first two meets where she placed 5th and 3rd overall respectively. At the UCLA vs Stanford meet, Kristina hurted her knee on her first tumbling pass on floor exercise and she had to pull out from the competition. The injury was not as bad as it looked, where it was just a few huge bone bruises. Kristina missed next three competitions. She returned at the UCLA vs Arizona, where she did an exhibition on uneven bars. She slowly returning to three events at the end of the season. She helped the UCLA Bruins to finish 2nd at the Southeast Regionals, where they qualified to the NCAA Championships in Athens, Georgia. She also finished 1st on balance beam and 3rd on uneven bars. At the 2008 NCAA Championships, Kristina helped the Bruins to finish 4th during the preliminary session. She qualified two event finals, vault and uneven bars. She placed 9th on vault and tied for 2nd place on uneven bars.